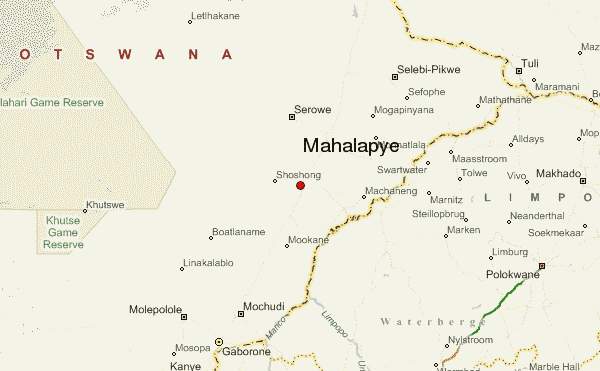 On Saturday we found out where we will be placed for the next two years. See the red dot in the middle of the map above? That's me!
I will be in Shoshong, which is in between Gaborone and Francistown. Shoshong is a relatively large village, with over 5,000 people. I haven't gotten a confirmation on the actual size, so that's not a firm number. I will be based at a large clinic. It has 16 nurses, not including staff and other health care workers. The clinic is open 24 hours/day, with the nurses all on rotation. This is the first clinic I have seen of this size, so I am so excited. Today, I met my counterpart. Our counterparts are the Batswana we will be directly working with at our primary job site. Her name is Radiboe and she is a nurse/midwife. She is so nice.
On Wednesday, Radiboe and I travel to Shoshong. Apparently my house is already set up, so I will be staying there through Sunday. I will be greeting my neighbors, getting slowly acquainted with my community, and meeting everyone at the clinic. Although I am based at the clinic, my first couple months will be spent primarily touching base with all of the stakeholders in the community and doing a community assessment. From that, I can start projects that community members have identified would be helpful to tackle HIV/AIDS in Shoshong.
Being at a clinic is useful in so many ways. I can work on prevention of mother-to-child transmission of HIV, anti-retroviral drug adherence, and get to know the people most affected by HIV in the community. But my work in the community won't only be at the clinic. I can initiate awareness campaigns, co-facilitate support groups...the list is endless. The important thing is to have the community invested in my projects, and have local partners to continue the projects after I leave.
Needless to say, I am so excited. The placement really is ideal for me. Mahalapye is 30 kilometers away and two of my fellow volunteers are being placed there. It will be great to have the support of that proximity to other Americans. I understand, though, how important it is to create lasting relationships with the Batswana in my community. And this week's trip is the beginning of that journey.